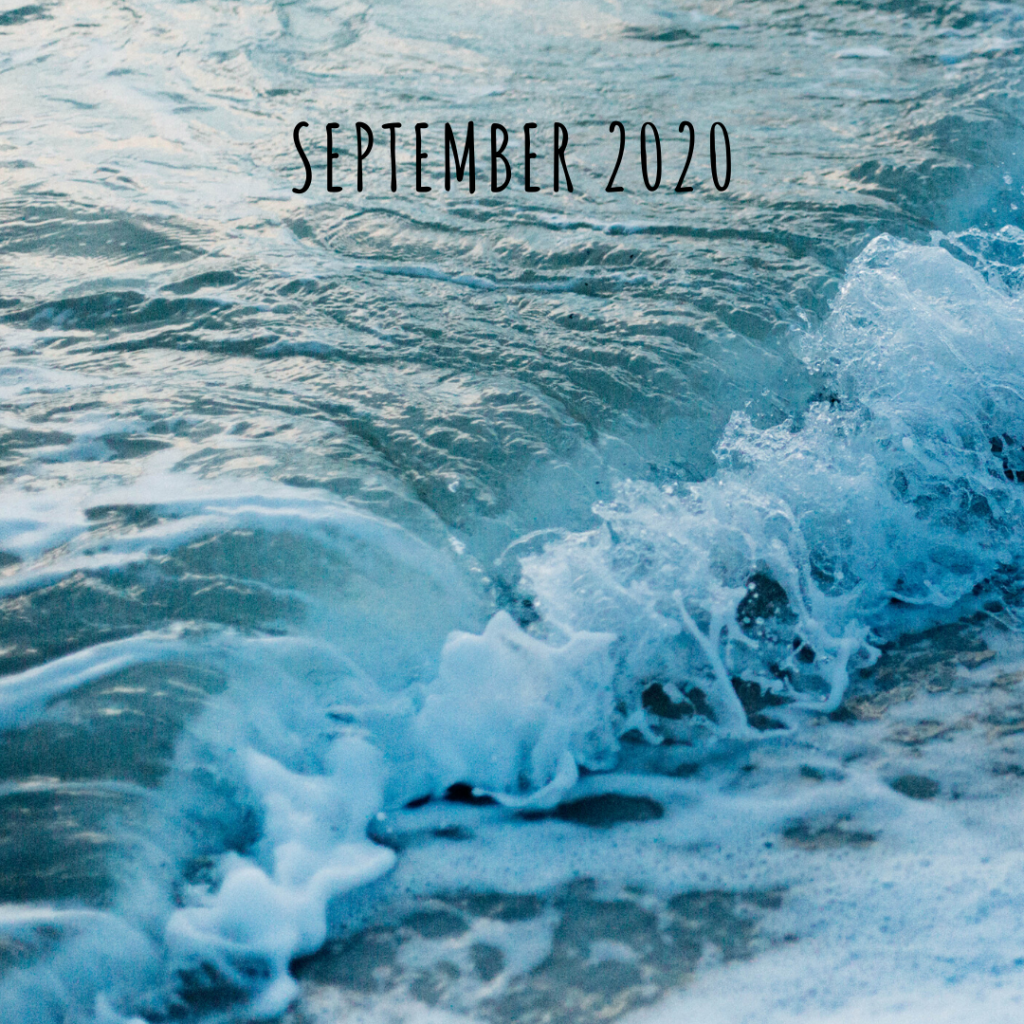 Mountains and sea in Greece
"Are you tired of crowds and busy city life? Dive into the wild nature around forgotten Greek villages in Pindus National Park, refresh yourself at Lefkada ́s remote sparkling beaches and enjoy delicious Mediterranean cuisine.  This retreat is designed to soak you up into the magic of the Greek mountains and the majestic sea. But not in the way which makes you feel small compared to the size of the universe, no, we hope you will manage to reconnect with the gorges, springs, trees, deers, bears plants, sea, fish, grass, bees… and feel its powerful beauty. So you will not have any other option but to protect them and thus yourself in the future"  Svetlana, Petra and Shumi (Footour)
KEY INFORMATION
Expedition duration:

8 days (If you wish to stay longer, we are ready to help you prolong your stay.)

Group size:

min. 4 and max.15 participants

Dates:
22-29 August
18-25 September
Meeting point:

Ioannina, Greece (we can arrange a pick up in Preveza)

Expedition customizable:

Yes

Difficulty:

medium

Minimal contribution per person: 840€
What will you get: 4 days hiking in Pindus national park, 3,5 days recharge in Vassiliki village at the seaside, 8 nights accommodation, 8 times breakfast, transport on the spot, local guides, experts and online workshop on responsible travel. In case of your interest, we invite you to volunteer with us in crisis center for people in need in Ioannina (1/2 day).
Lunch and dinner will be available in local tavernas for up to 20€/day.
PROGRAM
DAY 1: ARRIVAL TO OUR BASE CAMP
Meeting in Ioannina and transfer to our guesthouse in traditional remote village Elafotopos situated underneath green mountains. Elafotopos (alt. 1100 m) offers pleasant climate with many hours of direct sunlight. In the afternoon we will take a walk through "kalderimia", the centuries-old stone paths, "kafeino", cafe and the center of the village. We will have the opportunity to get to know each other better during the delicious dinner cooked by Lena, the owner of our guesthouse.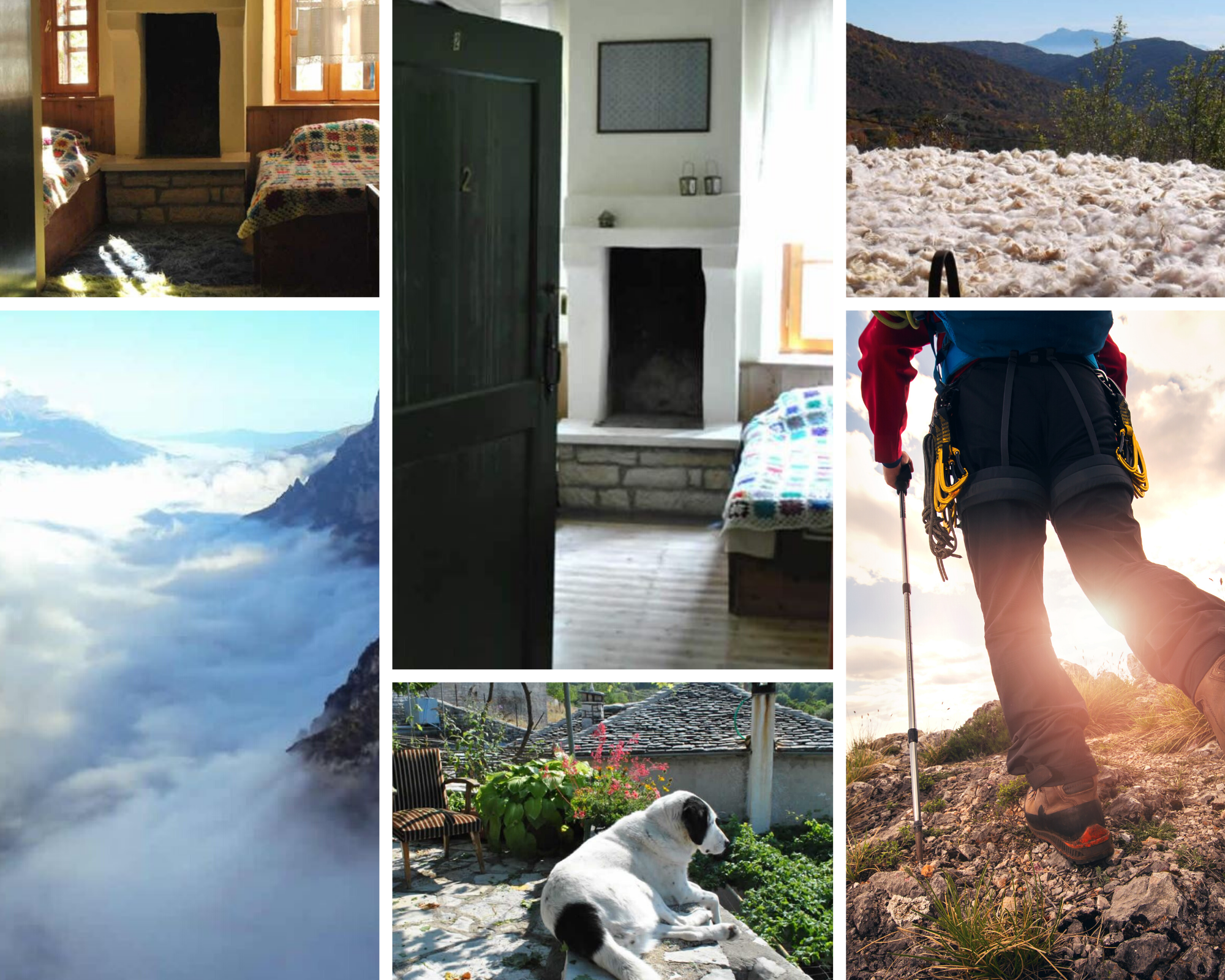 DAY 2: THE WORLD'S DEEPEST GORGE
After rich breakfast we will head towards unspoilt Vradeto, the highest of the Zagori villages, that managed to keep its untouched beauty and the traditional stone architecture.
Our next stop will be the viewpoint of Beloi, a natural stone balcony offering breathtaking views over the gorge and space for wildlife spotting due to its isolated and strategic location. We might be lucky and encounter a bald eagle or one of the few remaining black bears.
After returning to Vradeto we will descent down an impressive cobble-stone staircase of 1200 steps which was the only connection between Vradeto and the rest of the world until 1973! At the end of our expedition we reach Kapesovo with the option to have dinner in a local tavern.
(Distance: 10 km. Technical difficulty: easy to medium. Walking time: 4-5 hours)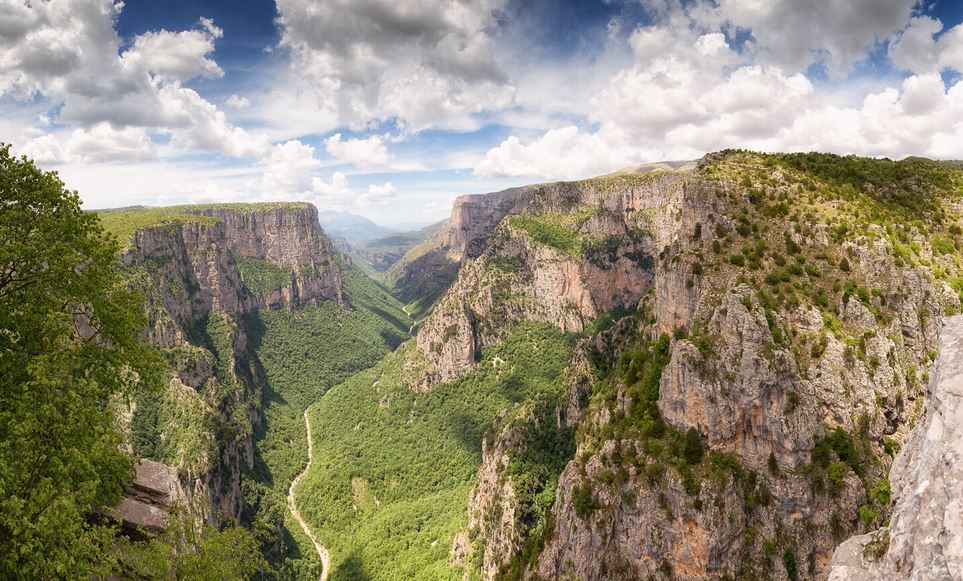 DAY 3: TRAVERSE THROUGH THE VIKOS GORGE
Today is the day! After admiring the gorge from above, we will hike through its ravines and hidden spots like the village Monodentri or Voidomatis springs with the possibility to swim in its cold waters. Vikos Gorge, with the length of 20km, walls that reach 450m and 1600m depth, and a width ranging from 400m to just a few meters at its narrowest part, is listed in the Guinness Book of Records.
Our environmentalist expert will guide you through rich variety of biotopes of the national park of Vikos Aoos. Afterwards we will ascent to Papiggo, situated under the towers of Astraka – solid rock formations. Have a delicious meal at a local tavern and rest in the village, the transfer to our guest house will follow right after.
For those seeking some luxury, a visit to Mikro Papiggo 1700 Hotel can be arranged, which has an excellent spa overlooking Astraka's towers
(Distance: 18km. Technical difficulty: Medium. Walking time: 7-8 hours.)
DAY 4: TRADITIONAL STONE PATHS & ARCH BRIDGES
After a delicious breakfast at our guesthouse, we will start our walk around the picturesque villages of Vitsa, Koukouli, Kipi and Dilofo through traditional stone-built paths and arch bridges. The Zagori area is full of deep gorges, ravines, streams and white water rivers, which back in the day, represented big obstacles for the locals. Therefore local wealthy families and noble governors started building bridges that were named after them.
We will stop in Koukouli for lunch and visit the local museum dedicated to endemic herbs and plants. Afterwards we'll continue to our base, Elafotopos. Time to rest before enjoying another lovely dinner.
(Distance: 8 km. Technical difficulty: Easy. Walking time: 4-5 hours.)
DAY 5: COOKING WORKSHOP & TRANSFER TO LEFKADA
We will have the opportunity to stop by at a crisis center for refugees, who will teach us how to cook in the real traditional Syrian way. Learn how such a project works, meet the real people affected by the crisis and find out if we can learn something from each other. Form your own opinion based on your experience and if you wish, support the people in need.
 DAY 6: RECHARGE AT THE SEASIDE
After a delicious breakfast you will have the precious time to enjoy sparkling beaches and lovely villages of Lefkada. Additional activities as per below can be arranged for you. (to be paid directly on the spot to the local providers)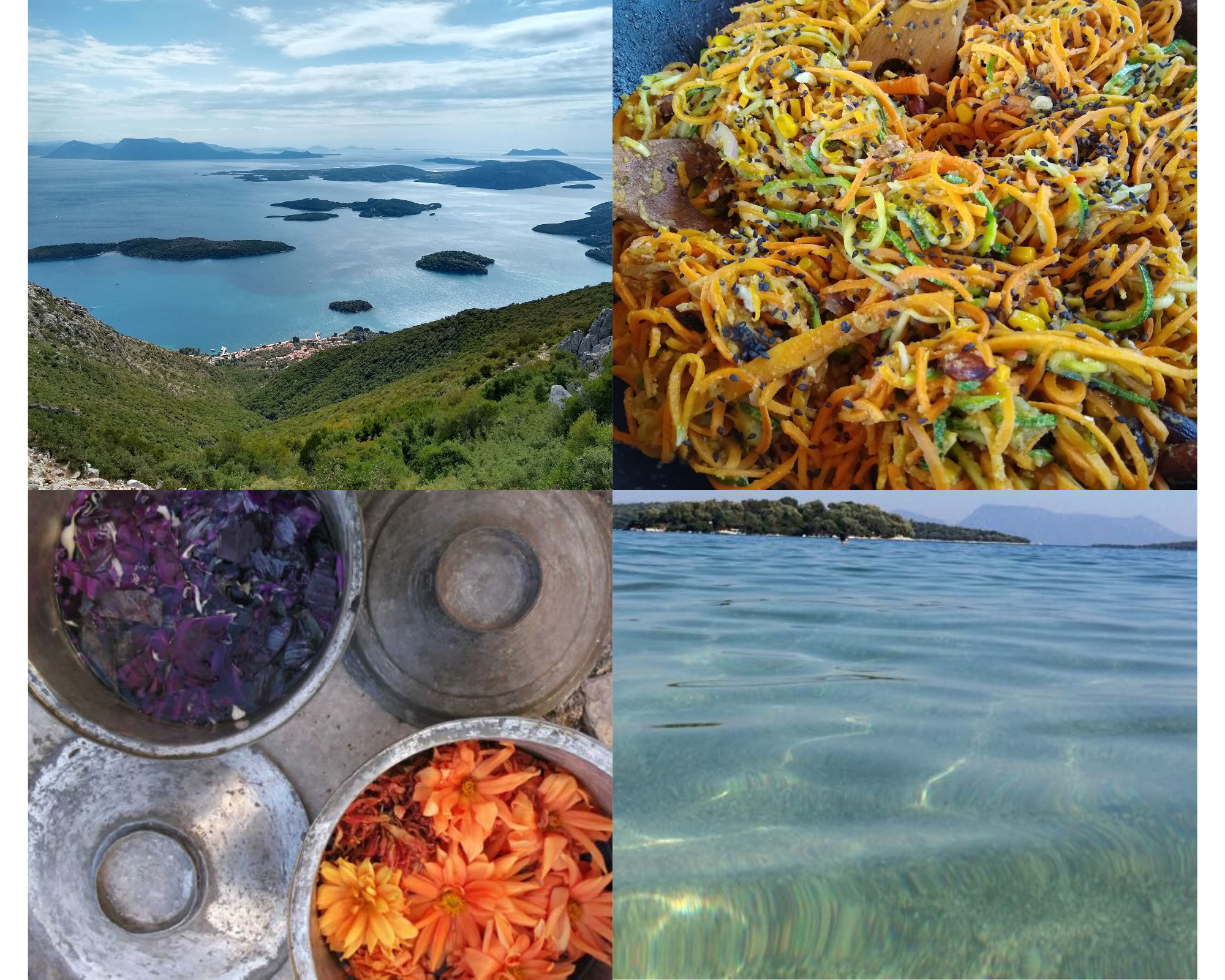 DAY 7: SEASIDE AND LEAVING A POSITIVE FOOTPRINT
After rich breakfast and relax at the sea, we will support the local communities in order to pay Lefkada back for its hospitality. We, here at Footour and Amaka, believe that life should be more about giving. We will meet the community representatives from the Non-Profit Lefkogaia –an urban cooperative implementing the model called Re-use-Reduction-Recycling in Lefkada–  to help with trash collection and recycling.
DAY 8:  RECHARGE AT THE SEASIDE
After a delicious breakfast you will have the time to enjoy sparkling beaches of Lefkada and if you feel like exploring on the local life deeper (with guidance) additional activities can be arranged for you (to be paid directly on the spot to the local providers). Please, sign up for the activities in advance in order to book our local experts on time. Thank you for your understanding.
Art therapy workshop

inspired by the Myth of Odysseus, (Ulises). Finding your own journey and

photography workshop/walk

through the mountains or Lefkada.

30€/person, min. 3 participants.

Herbal walk with Aris, the herbalist.

25€/person, min. 2 participants.

Herbal workshop with Aris: Make your own tincture/cream

.

20€/person, min. 2 participants.

Cooking: Greek food/foraging workshop.

30€/person, including dinner or lunch, min. 2 participants.

Yoga:

15€/person, min. 2 participants.

Eco Farm:

15€/person, min. 2 participants.
IMPORTANT! All our PROGRAMS ARE TENTATIVE (so they might be changed according to the local weather conditions and the wishes of the participants). You are encouraged to take part in all the activities mentioned above however nothing is obligatory and you are free to skip anything you do not feel comfortable with. You do not need to have any previous experience or knowledge to take part in any of the activities mentioned in the program.
GET TO KNOW OUR HOSTS, GUIDES and EXPERTS (Dafni, Aris, Adonis, …)
 This trip is designed for those who care about the environment and want to protect it. It is for those who want to enhance their lives, support others in need and leave a positive footprint.
Does the above sound good to you? Please check whether we are a good match and that you're a Footourists at heart (here) before you apply by filling in the form on the right.
Write us an e-mail or use our online chat in case you have any further questions. We will be happy to hear from you!