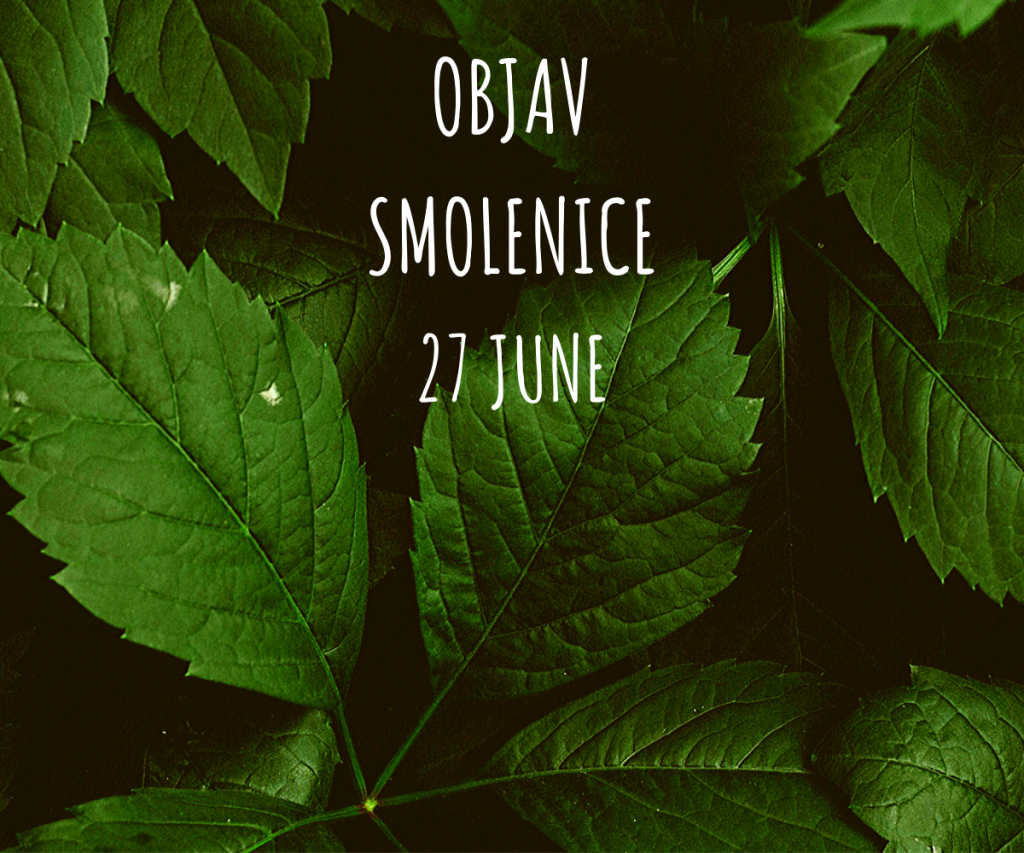 Eco-festival
We organize our first festival  obJAV with the idea of celebrating the beauty of nature and art. We need you to turn the public spaces around Smolenice into a place with pleasant music, a place to relax, learn to create, let your imagination run wild, and a place where experts tell us how they perceive nature and how we can protect it together. And especially, to a place without garbage.
Our first obJAV festival for all took place on 17th August and we were going through a challenge – not to create any waste. 
Entry and participation in all activities was thanks to the support of the Participatory Budget of Trnava County FREE. 
We would like to maintain the free spirit of the festival also for the upcoming edition and therefor we need you. If you liked this edition or you would like another one to happen, we would be truly happy for your support by voluntary contribution to our bank account: SK4811110000001508056018 UNICREDIT. Thank you!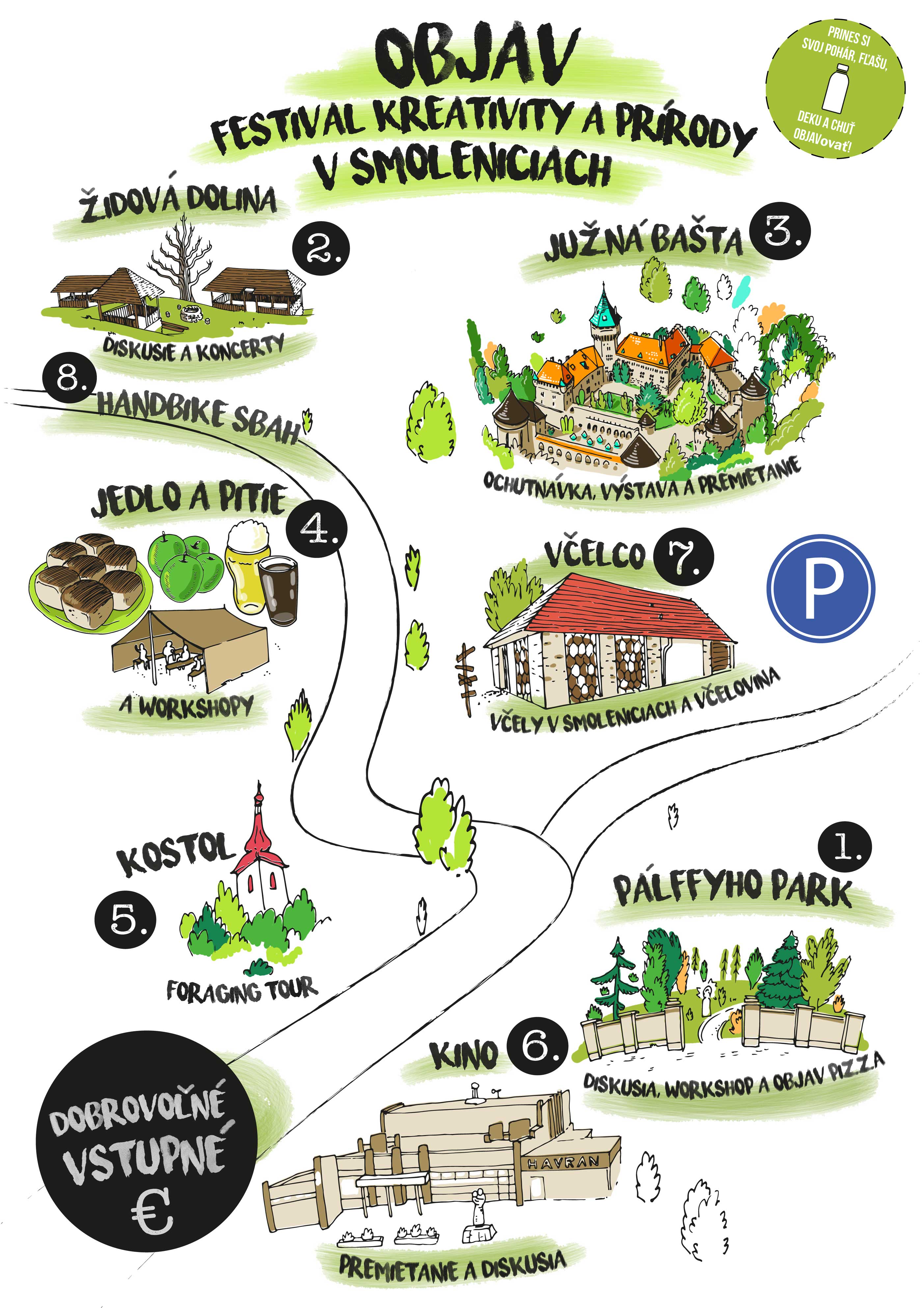 PÁLFFY PARK
11:00-14:00    WORKSHOPS
Let's plant part of the park together with permaculture expert Veronika Knihová
Learn to Juggle and Acrobalance Basics for Kids with Martin Šebest
Learn to draw and paint landscapes for children with Philip
13:00-14:00    DISCUSSION: What tracks you leave while traveling?
 2. ŽIDOVÁ DOLINA
14:20 – 15:20  DISCUSSION: Our everyday waste. And how much garbage do you produce each day?
Denisa Palovičová, Life without waste. Is it even possible?
Igor Hanečák, Recycler, how to be creative with waste?
Peter Bažík, How to recycle oils and biowaste?
Anton Chrvala, mayor, waste situation in Smolenice
Daniela Laluhová, Repairably, how to prevent waste from broken products?
15:30 – 16:30  MUSIC JEMO
16:45 – 18:45  DISCUSSION: How to take care of the forest now?
Ing. Erik Baláž – nature protector, filmmaker, nature lover, lecturer, led a campaign to protect Tichá and Kôprova dolina.
Ing. Matej Dobšovič  – from an activist to director of city forests Bratislava
Ing. Eduard Apfel – Chief Engineer in Banská Bystrica City Forests
Mgr. Andrej Kovarik – Plenipotentiary for Greenery and the Environment – City of Bratislava.
19:00 – 20:15 CONCERT: Melissa Tara Nielsen
20:30 – 22:00 CONCERT: Juraj Schweigert & The Groove Time  
22:20 – 23:00 CONCERT: Save As
23:15 – 02:00 DJ SET: Polygon Stage
3. SOUTHERN BASTA OF SMOLENICE CASTLE
15:00 – 16:00 My stay in the dark, lecture, Paula Záhradníková from the Forest Garden
11:00 – 22:00 Mysterious Wolf Mountains, Kamil Shoos: An exhibition of photographs of wild animals living in the Carpathian forests:  "I want to point out in particular what can be seen in these beautiful mountains. Recently, the topic of forest logging has been resonating in public, new logging plants are being built and if this continues, it is quite possible that the Eastern Carpathians will cease to exist completely in some time. In this way, I want to draw the public's attention to the beauty of these mountains, to show what rarely lives there. I would like to point out that if we do nothing to stop logging, in a few years we will see this beautiful nature only in pictures."
22:15 – 23:15  Screening of the Film: The Living River
4. WORKSHOP MEADOW AND YUMMIES
TASTY AND HEALTHY FOOD AND DRINKS
WORKSHOPS
12.00-19.00      Make a fruit bag, OZ Samaria
12.00-19.00      Painting in traditional natural ways on your own clothes (or for T-shirts and bags for a fee) with Luc Slancova
13.00-14.00      Make a sparkling bath bomb with Paula Záhradníková
14.00-15.00      Movement workshop for children, OZ Human Art Space (HAS)
14.00-16.00      Aromatherapy – mix your own scent with Renata Kreheľová, capacity max.15 persons
16.00-18.00      Miracles from waste (workshop for children and adults), Recycler and OZ Pure Love
17.15-18.00     How to properly separate? OZ Pure Love
18.00-19.00     How to Play Didgeridoo with Iwan Hrozný
5. CHURCH
BEGINNING FORAGING TOURS
10:30-12:30      Foraging (forest tasting) and geological walk around Smolenice with Naomi Hužovičová and Anežka Radková, capacity max.15 persons
16:00-19:00     Foraging (forest tasting) and geological walk around Smolenice with Naomi Hužovičová and Anežka Radková, capacity max.15 persons
6. SMOLENICE CINEMA
14:30-15:50     Screening of the film: The Immortal Forest and discussion with the filmmaker Erik Baláž
7. VČELOVINA
Guided tours of honey and honey mead production: 2,50€
Honey mead tasting: 2,50€
 8. GRAVEL ROAD BETWEEN MEADOWS
 DO YOU DARE TRY THE HANDBIKE WITH SBAH? 
ORGANISATION
ECOLOGY
Please bring your own cup or bottle, which you can fill on the spot. We believe that during the festival we can prevent waste. However, if we fail to do so, we will have the opportunity to create something from it and learn how to properly separate waste.
Food and drink stalls use cups for deposit. In the case of disposable packaging, they must be biodegradable. We do not support disposable plastics (packaging, papers, straws).
TENT CITY
The Baranek family let us use their meadow for the tent city. Set up your tent and if you create waste, take it with you to only leave a positive trace. Water and toilet are not available.
PARKING
Včelco made its parking lot available for us, which will be marked. Thank you.
Address: Továrenská 10A, 919 04 Smolenice
ACCOMMODATION
 TRANSPORT
We recommend to go by bicycle, on foot, by train, bus or shared car. (eg Blablacar or make an appointment in our FB event)
Buses
Bratislava AS – Smolenice
7:38 – 8:55, 10:10 – 11:21, 12:38 – 13:55, 12:40 – 13:53, 15:38 – 16:58, 16:10 – 17:32, 18:38 – 19:55
Smolenice – Bratislava AS:
17.8.: 17:05 – 18:06
18.8.: 4:40 – 6:02, 6:52 – 7:53, 8:43 – 10:02 (ŽST Vinohrady)
18.8.: 13:40 – 14:40 (ŽST Vinohrady)
Trnava – Smolenice
17.8.: 8:30 – 9:22
17.8.: 11:25 – 12:16
17.8.: 13:25 – 14:12
17.8.: 15:25 – 16:18
17.8.: 17:30 – 18:18
17.8.: 18:37 – 19:24
17.8.: 19:45 – 20:25
 Smolenice – Trnava
17.8.: 18:42 – 19:35
17.8.: 20:42 – 21:30
18.8.: 4:15 – 5:00
18.8.: 5:50 – 6:40
18.8.: 6:27 – 7:20
18.8.: 8:37 – 9:30
18.8.: 10:42 -11:40
18.8.: 12:43– 13:30
18.8.: 14:47 – 15:40
Trains
Bratislava – Trnava – Trnava – Smolenice:
17.8.: 10:13 – 10:41 – 11:11 -11:35
17.8.: 12:13 – 12:41 – 13:11 – 13:35
17.8.: 14:13 – 14:41 – 15:11 – 15:35
17.8.: 16:18 – 16:40 – autobus: 16:50 – 17:32
17.8.: 18:18 – 19:05 – 19:11 – 19:35
 Smolenice – Trnava – Trnava – Bratislava
17.8.: 18:31 – 18:57 – 19:18 – 19:47
17.8.: 20:31 – 20:57 – 21:18 – 21:47
18.8.: 4:12 – 4:38 – 4:55 – 5:42
18.8.: 5:07 – 5:33 – 5:55 – 6:42
18.8.: 10:31 – 10:57 – 11:18 – 11:47
18.8.: 12:31 – 12:57 – 13:18 – 13:47
 Trnava – Smolenice
17.8.: 9:11 – 9:35
17.8.: 11:11 – 11:35
17.8.: 13:11 – 13:35
17.8.: 15:11 – 15:35
17.8.: 17:11 – 17:35
17.8.: 19:11 – 19:35
 Smolenice – Trnava
17.8.: 18:31 – 18:57
17.8.: 20:31 – 20:57
18.8.: 4:12 – 4:38
18.8.: 5:07 – 5:33
18.8.: 7:54 – 8:20
18.8.: 10:31 – 10:57
18.8.: 12:31 – 12:57
18.8.: 14:36 -15:01
 Vrbové – Smolenice
17.8.:  9:33 – 10:25
17.8.: 16:50 – 17:48
17.8.: 16:54 – 17:45
Smolenice – Chtelnica – Chtelnice – Vrbové
18.8.: 6:55 – 7:24 – 7:30 – 7:50