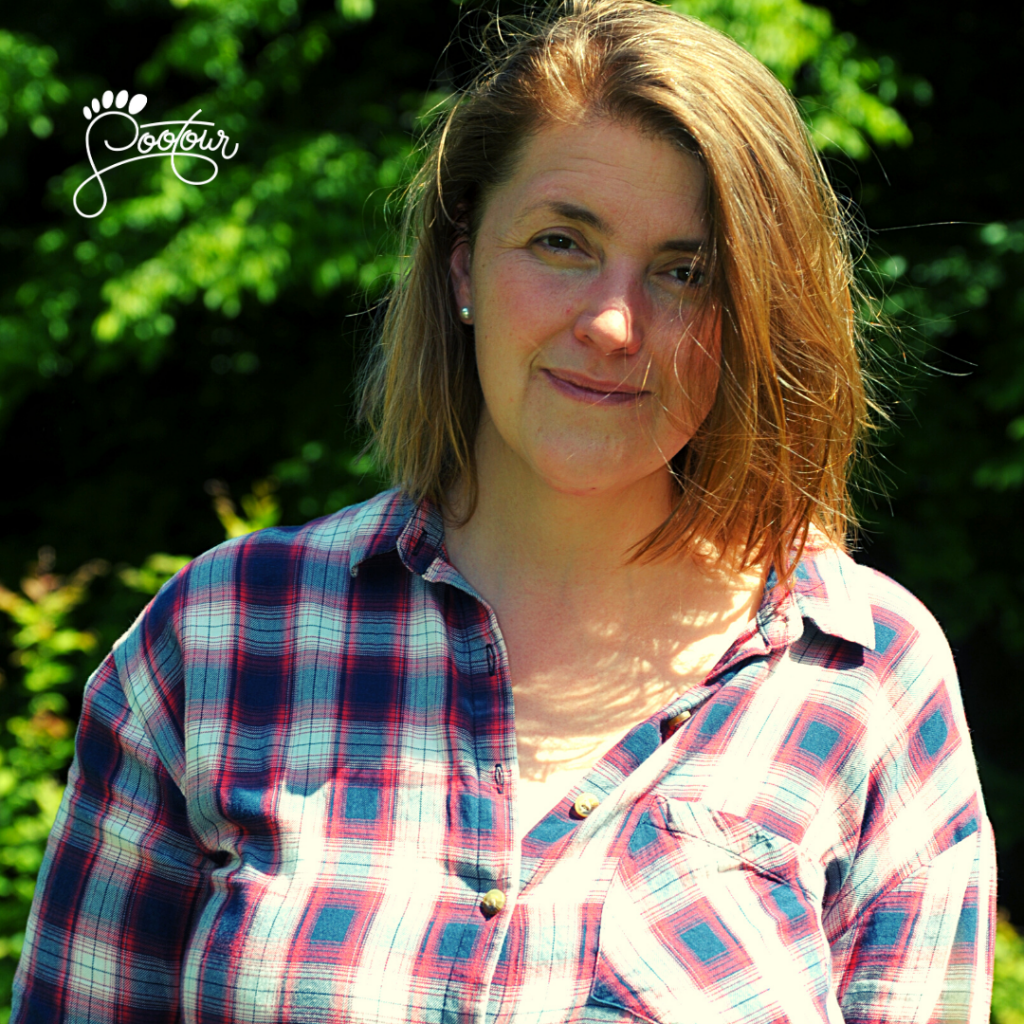 Humans of Footour: Janka
8 June 2020
10 minutes of uplifting reading
Jana Pavlíková, conservationist, civic activist, guide, volunteer at Slatinka and other environmental organizations, mom
What do you like?
Very long walks, winning court cases and questions about how the universe works, which my 4-year-old Jonáš likes to ask me.
What do you dislike?
Meetings with arrogant people and the impact of climate change.
We know that you are involved in many initiatives and activities. Which of these make the most sense for you and why? How long have you been working on these?
This is probably the hardest question I've ever been asked. It varies depending on how well things are going. Sometimes it makes more sense to work on good regulations for a regional plan, or to look for gaps in the construction approval procedures of some dreadful building that's being planned – which would eventually be stopped. And sometimes it seems to me that it makes sense to talk with a child who lacks security at home and buy him or her shoes.
I am primarily an ecologist – conservationist. I do consultations where construction work might affect protected animals (birds and bats), I have long been working on the protection of trees and greenery, supporting local residents in influencing approval procedures for small hydropower plants and similar projects, which would pose harm to the natural habitat or the environment. In doing so, one realizes how important it is to know all the different laws. However, these change often in Slovakia, so we also need to know how to enter the policy making process and participate in the preparation of other relevant strategic documents.
"Not all activities succeed, but I always learn something. The meaning of life should be that we learn and do everything we can for what we consider to be right."
On a local level, this means following regional plans, which are the framework for how a city or municipality develops. I am pleased to see local people learn these things and I can guide and help them in the process. It is often a long-distance race that can last several years, and in the end the result of the work is that something does not happen – so it is not visible at all. But then, I take my family on a trip and see, for example, an orchard, which was saved almost 10 years ago from being cut down. When I look at the hundreds of blossoming cherries, I tell myself that it was worth it.
Is it possible to make a living out of such a noble mission? 🙂
Partially 🙂
Of course, volunteering does not pay, but this is often the part of the puzzle that brings people the most joy. Since graduating, I have been active mainly in the non-profit sector, where money is not exactly the motivation. To some extent, about half of my activities bring me income. The second half is charity, but so far we made it work so that we survive 🙂 This, on the other hand, was also the reason why I started working as a guide. It's a seasonal income and at the same time a very interesting job that makes me think, plan and look for answers to unexpected questions. Meeting interesting people is a nice bonus.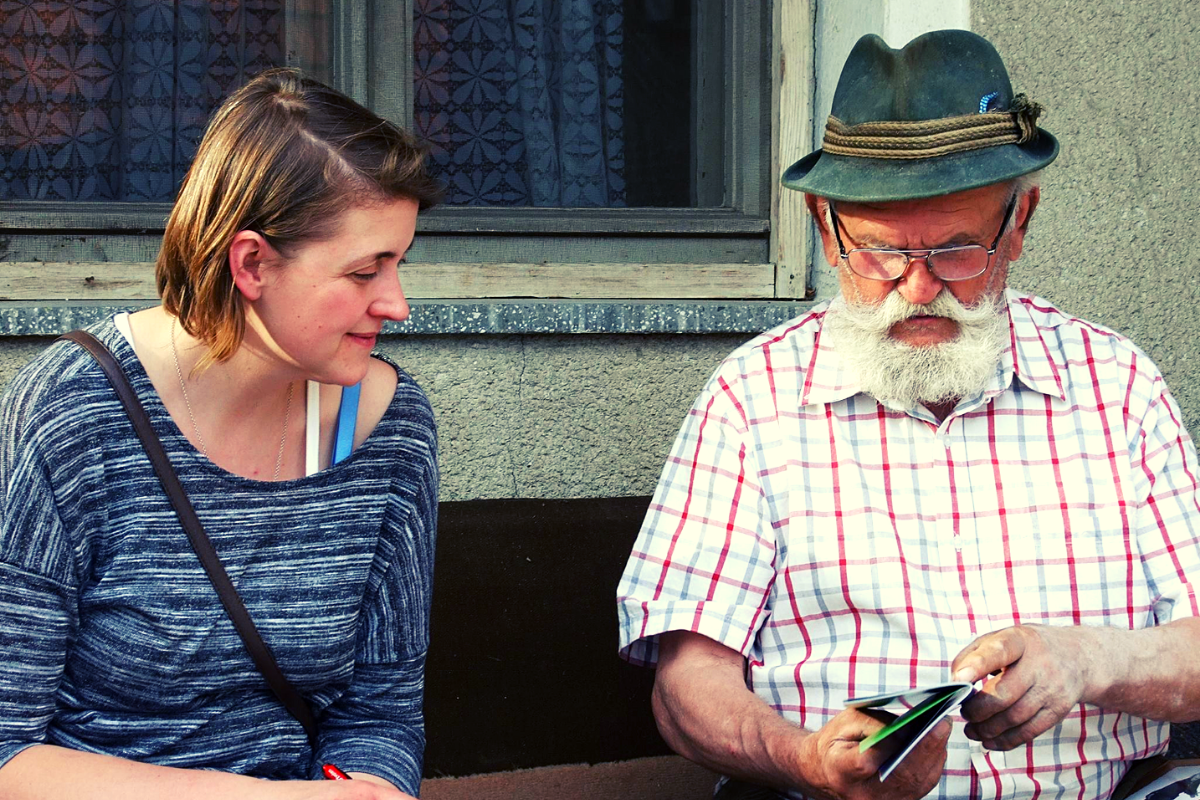 For us, among other things, you personify that it's worth fighting against the injustice established from a position of power, it is only necessary to know the right weapons. What exactly is the Slatinka project? What weapons did you use here?   
Only legal ones :). From participating in all relevant approval procedures, where we consulted some of the best lawyers, through influencing the EU funding mechanisms, lobbying, as well as the support to local civil society, without whom the village would no longer be a living place today, cleaning of public spaces and providing public lighting.
" People at all levels are beginning to understand that we need to be more sensitive and respectful of the landscape, otherwise it will get back at us."
Slatinka is a village in central Slovakia, where for over 60 years there has been a plan to build a dam. Paradoxically, thanks to this, the river and the whole valley remained preserved and untouched by other human activities and valuable natural habitat was preserved. For the villagers, however, it is a very sad story. Most of them lost their property and sold their houses to the state for very small sums in the early 1990s under a threat of expropriation. Those who stayed, have been paying rent to the state since. It is often the case that they have already paid twice as much money for renting their own houses as they originally received from the state.
A few weeks ago news emerged, that according to the government's program statement, the dam would not be built. Personally, however, I do not feel too optimistic. We are waiting for the land proceedings to stop and other steps related to it.
What other projects bringing positive change are you currently involved in?
Now, for example, we are preparing a new regional plan in the village. (I am a member of the Commission for Construction and the Environment) I am looking forward to what plans we may be able to get into this document and implement. People at all levels are beginning to understand that we need to be more sensitive and respectful of the landscape, otherwise it will get back at us. It is a space for us to think about new possibilities of rainwater management, mobility and the like.
What is the response to your activism in your environment?
That's impossible to say with certainty. It really depends on which side the person stands on.
You live in Podpoľanie. This area used to be known for the fact that whole villages are dying out here, because young people are moving to the surrounding towns or to Bratislava. You on the contrary even brought here your partner from Germany. What do you like most about living in Zvolenská Slatina?
Here in Podpoľanie that is no longer the case, on the contrary. People have been returning, or new settlers have been coming, although it is true that young people often leave for more interesting opportunities.  We have been fortunate, because many skilled young people have come back after graduating and decided to live and create right here with respect to this region. In Zvolenská Slatina, where I live, "my scouts" organize the GUČA festival and bring a relatively high-quality culture to this region. I am a little sorry that the towns in the area often consider folklore festivals or village amateur theaters to be the primary culture around here.
We decided to live here because of our grandma, who is an extremely important person for me. We haven't finalized this completely though. There is one place we are considering moving to in the future if the right opportunity comes along. It's a national park in the middle of Germany, where there is an outstanding program for returning lynxes into the wild nature, with large no-intervention zones. I can imagine living there, although for me feeling of home is connected with the view of Poľana with apple trees, that my grandpa planted in the garden.
Where would you say are the undiscovered gems of Podpoľanie? Where would you guide our footourists?
Poľana is specific in that it is still undiscovered by tourists. Maybe it's the missing infrastructure. You literally have to look for decent accommodation if you don't want to go for a completely commercial option. The Hriňovské lazy, which were included in the UNESCO biosphere reserve, are specific due to the fact that small farmers still operate here as they did during the communist period. These lands create a really specific landscape with terraced fields, mosaic-mowed meadows, which is absolutely in contrast to the huge fields of large farmers.  At home with my four-year-old son, we now often debate about geomorphology :). Poľana is really a well-preserved volcanic caldera, where you can read natural processes. In northern Podpoľanie, for example, mining also had its history. There are several beautiful rock formations such as Kaľamárka, Jánošíkova skala, etc. And of course there are deep forests in the top part – the Zadná Poľana reservation.
"Really, I think it is important to accept the world as it is with all good and bad things. We need to face complications so that we can appreciate the good that life brings, even though sometimes we are hurt by the losses and injustices we experience."
For me, authentic folk art has a special charm, which people often no longer see because of stylized folklore, which is much more popular. I really like the sound of the fujara, which was originally an instrument that came from the Zvolen County, which is this region. They were mainly played by shepherds on mountain meadows (Poľana = mountain meadow).
What are you currently working on and what are your plans for the summer? 
Like most people, we have too retreated to our garden, even though we go on trips to the surroundings, we spend a lot of time at home. Because we have part of the family abroad, we used to travel by car through the Czech Republic and Germany, and we would always sleep in a different national park. I miss that this year. I plan on discovering Novohrad more and we would like to go east to Polonín. I realized even more that my loved ones are important to me and I want to spend more time with them.
What is your idea of an ideal world?
It does not exist.
Really, I think it is important to accept the world as it is with all good and bad things. We need to face complications so that we can appreciate the good that life brings, even though sometimes we are hurt by the losses and injustices we experience. If, for example, we did not see the felled trees in the Low Tatras, we would not be able to value those untouched forests in Poľana or Poloniny. I really wish for us in Slovakia to be able to fulfill our commitments to achieve good water or air quality. It seems to me that our society is gradually becoming educated about environmental issues which is good, although it is very slow.
What do you think the world will look like after COVID-19?
At the beginning of wearing face masks, I was sad that people had stopped greeting each other and even avoided eye contact. Then we were touched in the news by volunteers who sewed masks at home or helped seniors with grocery shopping. We have become more responsible and obedient. On the other hand, for me personally it is astonishing how little information reaches people, for example, about the refugee crisis and measures at Europe's borders. In my opinion, it's because we lost interest out of fear for our own health. .
"I would like us to be equally responsible as a society, when facing an even greater crisis that humanity will have to deal with in the near future and that is the climate change."
But here we should be in solidarity not only with the elderly in our neighborhood, but also with people in other parts of the world who live in poverty. Few people realize that washing hands – for us a matter of normalcy, is in some countries unimaginable luxury. The water that drains into the sewer in 20 seconds while we wash our hands is an allotment of drinking water for the whole day for some people. I would like to be optimistic. I hope that we will not be fixing the economy at the expense of the nature and the environment.
You have read interview with Janka Pavlíková.
---
This article has been published as a part of a series called Humans of Footour. Our wanders through life and world have brought us many stories and new, unique perspectives on the world and people around us. For now, we no longer wander, instead we are staying at home and build our capacity. We are working hard, so that we all can travel more responsibly and only leave a positive footprint behind.
We can't wait for our joint adventures – once it will be safe again, until then we would like to share with you stories from Slovakia and around the world. Stories of people, who are close to our heart and our philosophy. People, who are Footourists by nature – who care and look to understand their impact, who help and make this world a better place, and inspire others to do the same. For more info about our future travel adventures click here!
You can support Necestou(ka) Footour with 2 or 3% of your income tax. More information here.